A popular experience that you can enjoy in Loučná nad Desnou is our woodland sauna. Come and enjoy some unique sauna relaxation in the privacy of nature, where you will be chilled by an always cool mountain stream. The beneficial effects of our saunas are enhanced by the power of the authentic experience of sauna bathing in nature.
Our two Finnish barrel saunas are located on the premises of the Mustang Ranch in Loučná nad Desnou, at the address Rejhotice 94 (in the direction of the Přemyslov ski resort). The saunas are a short walk from the train station Loučná n. Desnou-Rejhotice on the Desná Railway. It is possible to park a car or leave your bicycle, skis or horse at the ranch.
Sauna price list
Small Finnish sauna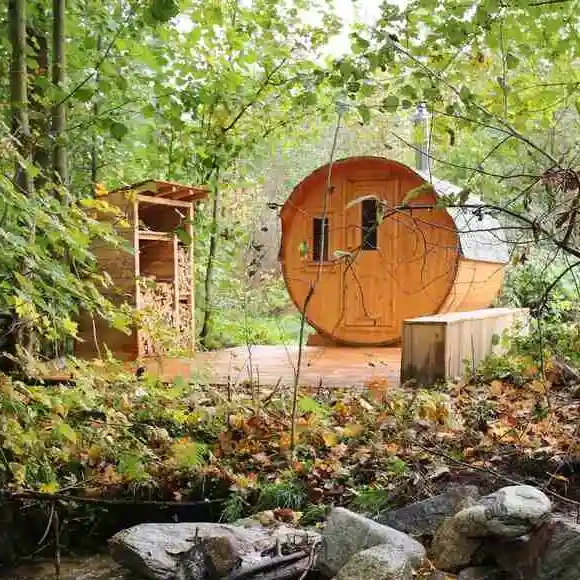 Entry for three hours for up to three people
---
Large Finnish sauna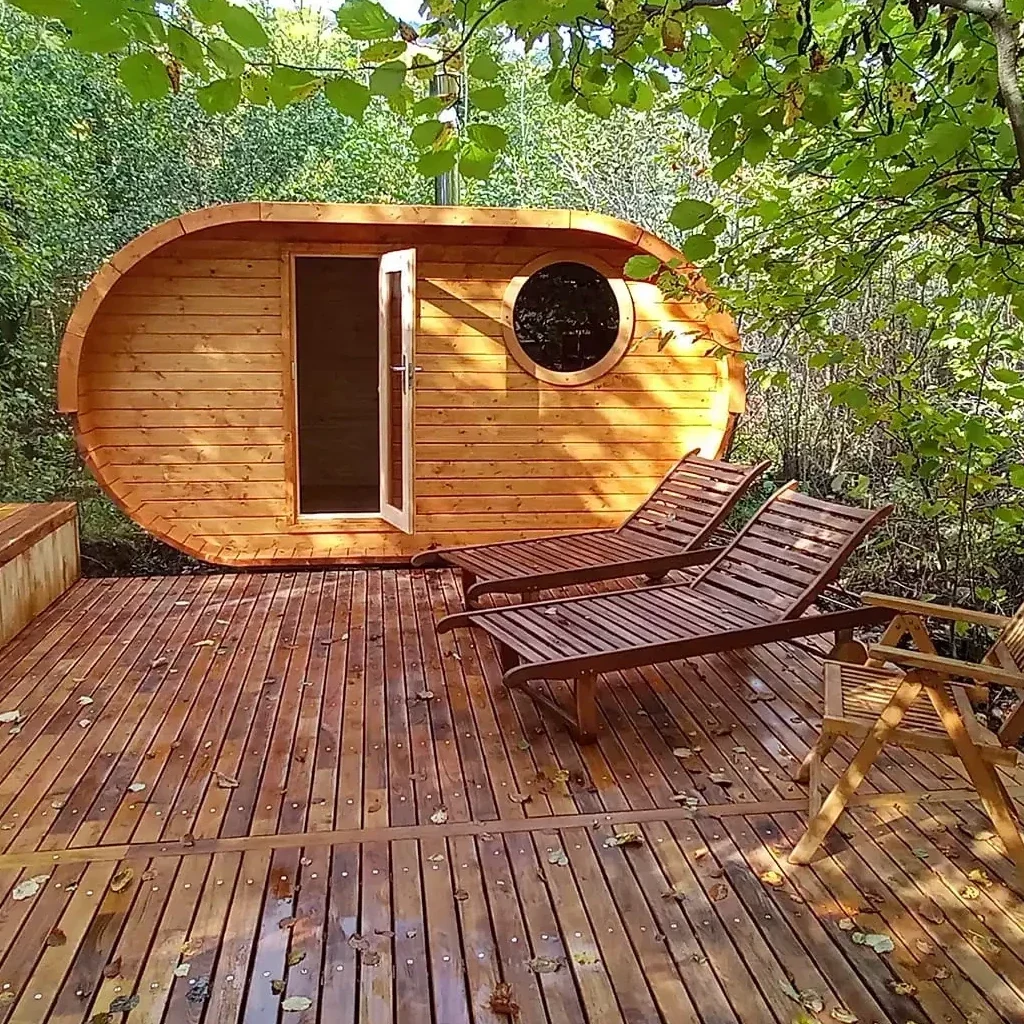 Entry for three hours for four or more people
---
There are also gift vouchers available for purchase.
The sauna benches are always covered with clean sheets and a small towel is prepared for each visitor. There is also lemon water for everyone to drink during the stay in the sauna.
For more information and to make a reservation, please call +420 774 711 789 (Vojtěch Fryšara) or (Tereza Fryšarová) or write to the e-mail address lesnisauna@email.cz . You can also find our woodland saunas on Facebook.
We are looking forward to your visit.
Our woodland saunas and their surroundings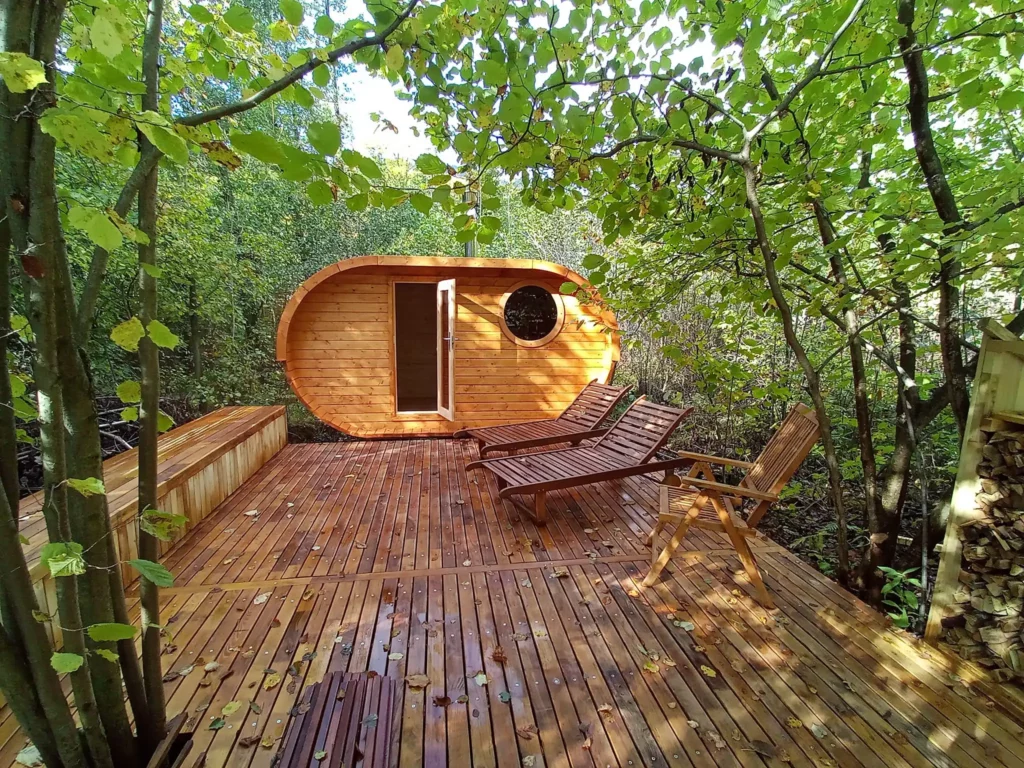 Who has liked our woodland sauna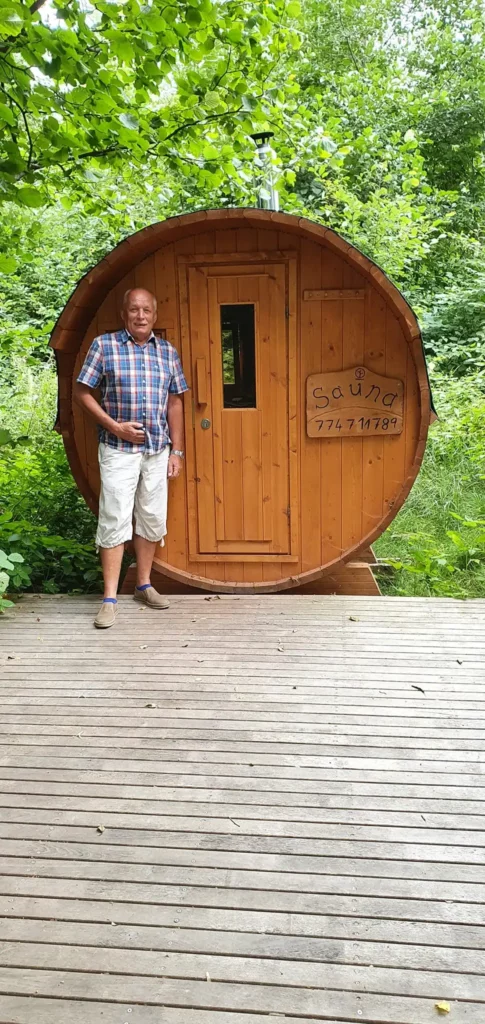 'My full recommendation. This is absolutely perfect in Loučná nad Desnou.'

Jiří Sonntag
Rules and recommendations for sauna use
Enter the sauna naked, dry, with a towel and without jewellery.
Do not enter the sauna on an empty stomach.
Drink a little before taking a sauna and have plenty of water on hand to drink.
Before, during and after the sauna, do not overdo it with food or alcohol.
Do not exercise inside the sauna; just relax.
Repeat the sauna ritual ideally three times.
The length of time one should spend in the sauna varies greatly from person to person (between five and fifteen minutes) and it is not necessary to break records.
Children are allowed in the sauna only under adult supervision and the length of their visit must be proportionately shortened.
Sauna bathing is the most beneficial if it is repeated regularly, ideally at least once a week and in all seasons.
Sauna bathing is not suitable for people with unstable angina, after a recent myocardial infarction and during acute aortic stenosis. If in doubt, consult your doctor about the suitability of sauna for you.